During the Easter break we did some hatching of our very own, but these weren't your usual 'eggs' and there certainly weren't any fluffy, feathered friends!
Our Live Butterfly Garden project had everybody channelling their 'inner Attenborough' as they discovered just how engrossing nature can be when observed up close. The fascinating project normally takes about five weeks to complete, but to ensure our little visitors could experience the whole metamorphic process we set up the experiment beforehand by having caterpillars in all the different stages of the cycle. The level of intrigue, questions and scientific exclamations soon proved that if you do have little ones learning about mini beasts, this is a fantastic way to get a hands-on experience of life cycles, while essentially just letting nature take its course. 
What did we see?
We soon discovered that The Hungry Caterpillar had competition! These tiny larvae had huge appetites and munched their way through thistle gel getting notably bigger by the day. Once fully fed they turned into pupae (chrysalides), shaking slightly as they would in the wild, when they felt someone was a little too close for comfort.
Then we waited…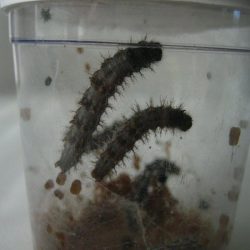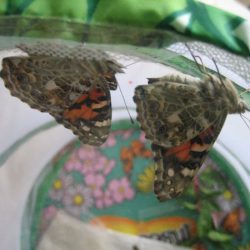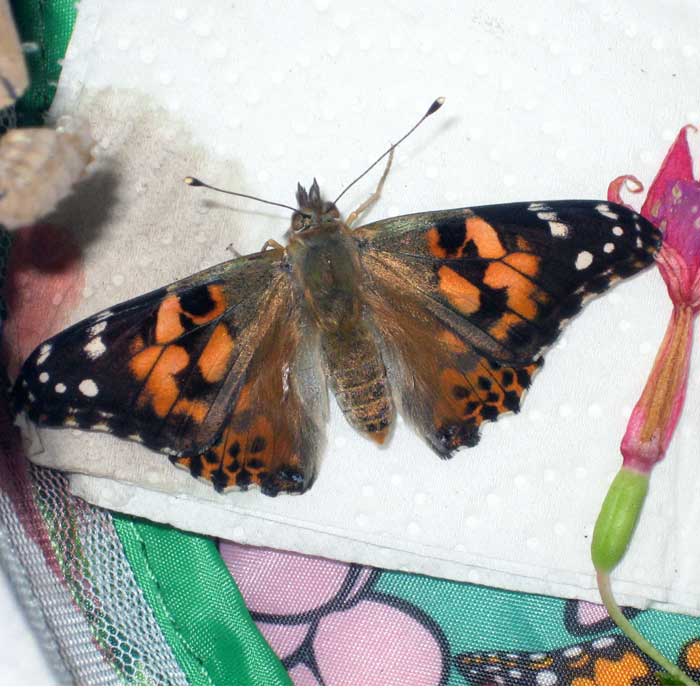 Once they had completed their metamorphosis, they worked their way out of the pupa for the first time. Initially their wings are wet and fragile allowing us a few days to observe the newly hatched Painted Lady Butterflies before release. Onlookers watched as they ate the treats we provided, and it appears we aren't the only ones that like to indulge in a little something sweet over Easter! Did you know butterflies have a sweet tooth? Take a look at this amazing video of one of our butterflies drinking all the delicious nectar from this orange using its proboscis. One of our younger customers excitedly exclaimed "I'm a butterfly!" upon discovering that butterflies shared her love of all things sugary.
What happened to the butterflies?
The project was a phenomenal success and we had a fantastic time taking a closer look at the miracle of metamorphosis with the Butterfly Garden. But… all good things have to come to and end, and as soon as the Painted Lady's wings were strong enough to fly it was time to let them go. What better way to introduce life cycles than by performing an experiment that not only allows you to watch the process up close, but results in the release of butterflies to pollinate plants, lay more eggs and actively help the species grow.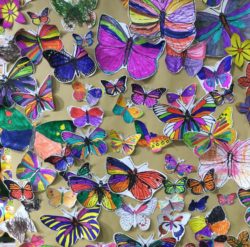 But it doesn't end there!
We would like to thank everybody who came and took part. Especially those inspired artists that added their own butterfly creations to our Butterfly Garden wall display.We had lots of fabulous designs; and by the end of the holiday it had become quite a work of art!
The Live Butterfly Garden Kit is produced by Insect Lore and can be completed at home or in the classroom. The five week process makes it a brilliant summer holiday project for any family (even those without children!) It includes a pop up habitat and a caterpillar certificate that you redeem online.
Find out more about the Live Butterfly Garden Kit here. 
For more creepy crawlies, magnifiers and educational fun check out our minibeast category or have a browse through our newest arrivals.