We've been busy at this Year's London Toy Fair 2018 trying out the newest, most exciting educational toys for 2018. While it might sound like a kid's dream day out, playing games, squidging slime and boggling our minds with brainteasers is hard work!
We've got a some strict criteria when it comes to picking new product. It's got to be exciting and fun but it's also got to be educational, worthwhile and enriching for kids.  A tough combo!
Luckily we've got over 25 years of experience in the toy industry to draw on and there's not much our Director Clea hasn't seen! Still just to keep our perspective fresh we always take our store managers along with us as well, to ensure that everything is tried and tested by those that know our customers best.
Heres our top 3 hits from the show: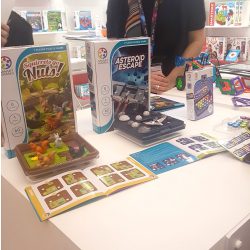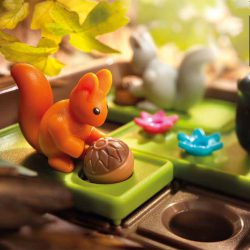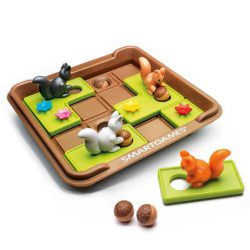 This is hardly a surprise pick for anyone who's been to one of our stores recently, given how many SmartGames we've been playing. But their new 'Squirrels Go Nuts' is such a great addition to their tactile puzzle range. Kids (and adults) can complete the puzzles by helping the squirrels hide their acorns! Just move the squirrels across the grid to drop all their nuts into the holes.
Whats to love?
-A new sliding block puzzle with 60 challenges.
-Just look at those adorable little squirrels!
-Easy storage, just pop the compact storage lid on to tidy it away.
-Helps improve kid's problem solving and their spatial reasoning.
-For ages 6+ to adult
This game should be in by April, just in time for a chocolate free Easter!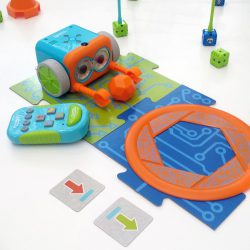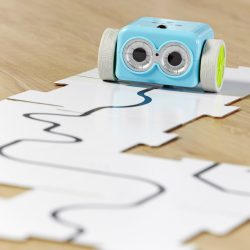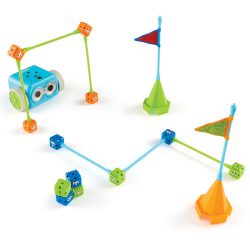 We got our hands on Botley and we were totally charmed by it's looks and potential. We certainly weren't the only ones as Botley was chosen as one of the Olympia Toy Fair's heroes and was featured on the BBC News. This programable robot has a lot of potential for helping kids understand and develop their coding skills.  You can watch him in action here!
What's to love?
-A programmable robot with a remote control, and screen free coding. Perfect for unplugged play.
-Simple enough for a 5 year old to use, but has the capacity to code up to 80 different steps, so there's lots of scope for an older child to send Botley off on a complex mission! (that's twice as many steps as the Coding Mouse)
-With it's chunky wheels Botley can roll over floors, tables and carpets, great for bringing coding into the play environment.
-Botley even has has object detection, which means he can be programmed to preform a chain of actions upon encountering an obstacle. Whether it's to push past it, dodge around it, or just stop!
-There's lots of activity cards to give some structure when starting out with Botley, but as with all Learning Resources products the goal is to inspire them to be creative and explore the possibilities of what they can do!
Botley is a super cute companion who obeys your command and doesn't need cheese sandwiches – who could ask for anything more?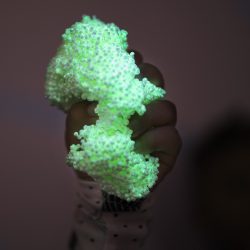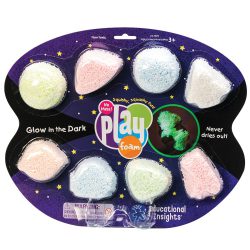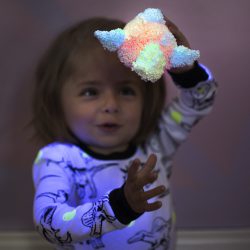 We could not wait to get our hands on this. All the squishy squashy sculpting fun of normal Playfoam, but now with the ability to see your creations glow in the dark!
What's to love?
-Non toxic, mess free play.
-Never dries out.
-It glows in the dark!
This foamy fun is gonna be great for modelling creepy aliens, spelling your name, or crafting some glowing unicorns. Fingers crossed this should be in soon.

And while it hasn't made our list – There's a new Crazy Aaron's Thinking Putty kit coming out later this year!
We've been told that Crazy Aaron is busy at work making a new kit to add to the Mixed By Me Thinking Putty range, but it's so super secret our supplier couldn't even tell us anything about it. We'll just have to wait for later in the year once Aaron's done working his magic.
We got over our disappointment of not being able to try it out by getting our hands on the biggest blob of putty ever!
It's the last day of #ToyFair and we have had a great time meeting everyone who has been to see us including the team at @FunLearningUK #ThinkingPutty pic.twitter.com/1eigSnSTgq

— Green Elephant (@GETradingLtd) January 25, 2018
All of the above should be coming to our stores and website later this year. So keep your eyes peeled!