It's September and somehow your little darlings have forgotten how to spell their name or add up. It's a whirlwind of finding new shoes and organising the school run. How does this come round so fast every year?! We've got plenty of parents among our staff here at Fun Learning, so we can sympathise. We share in your pain the kids losing their uniform on the first day! (We're starting to think the only foolproof solution would be to stitch them into it?)
Logistics aside, going back to school and a learning environment can be daunting for kids, but you can help them get a head start! We have lots of wonderful toys and games that will ease the transition from holiday mode to school day by getting those brains going! These can kickstart kid's back to school and help develop a sustained level of focus and attention. Even for those going to school for the first time, there are some ways to prepare so your child begins their school life with confidence.
Maths and English for First Time Learners
ABC Cookies (Ages 3+)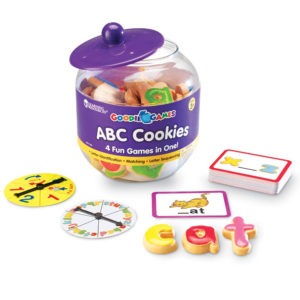 A fun, tangible way for children to start recognising letters and a gentle introduction to gameplay concepts. They also have an amazing sensory feel to them so children will want to get their hands on them. Comes in a cute pseudo cookie jar, lid and all. Just don't eat them!
Wipe Clean Pen Control (Ages 3+)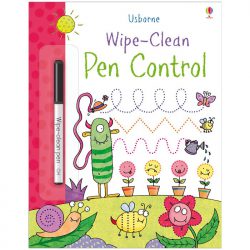 From Usborne, these books are an excellent, engaging way to introduce pen control and the alphabet in a reusable fashion. The pages can be used again and again thanks to wipe-clean pages!
I-Spy Pre-School (Ages 3+)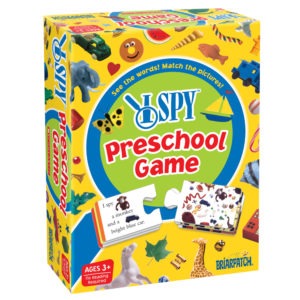 An entertaining way to get your budding academics to learn how to focus, take turns and start recognising everyday items visually and through the corresponding text.
Alphabet Bingo (Ages 3+)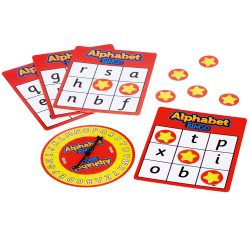 A very gentle way to allow children to start using letters and to focus and pay attention as they will want to fill up their Bingo cards without missing any letters.
Sharpen up older children's mathematical skills with these great Math games! 
Shut The Box (Ages 3+)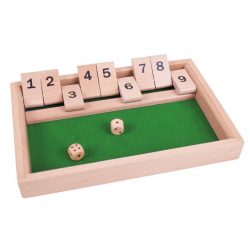 An alternative yet easy way to practice simple mental maths as a family. The idea is to shut all the numbered boxes on your side by combining numbers in any way to match the two 6-sided dice thrown in the middle that gives the target figure.
Mathlink Cubes (Ages 5+)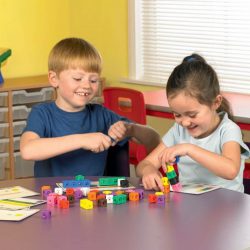 A tool so useful it is used in schools universally and regularly as an aid to the current curriculum. These can be used in a multitude of ways to demonstrate addition, subtraction, multiplication or division as well as a whole host of other concepts such as time as well. We go into more detail with our Math Link activity guide here!
Sum Swamp (Ages 5+)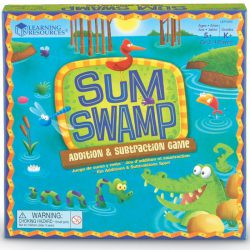 An entertaining alternative for maths revision as it comes in the form of a board game that involves addition for every move thereby practising basic sums disguised as an enthralling game with a visually obvious target to reach.
Buy It Right (Ages 5+)
Who didn't want to play 'shop' as a child? This fulfils that childhood desire whilst stealthily combining maths into the process. This is also beneficial for children to become accustomed to handling and understanding money, an important life skill often overlooked.
Times Table Swat (Ages 6+)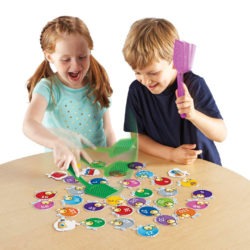 A simple yet effective method of firming up those feared times tables. This uses the 2-12 times tables and it is therefore a useful tool for any child regardless of age. Once a question is read out (for example 4 x 8) it is then a race to swat the correct answer first whilst avoiding swatting the 'fly spray' or 'jammy toast'. A very handy system of revision presented in a way children will find engaging, competitive and fun.
 Maths Dice (Ages 8+)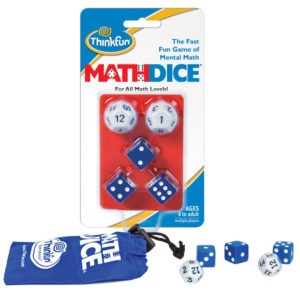 A fun and flexible way to encourage mental maths and get the brain functioning confidently again by using very simple rules. The two 12-sided dice are rolled to get a target figure. The three 6-sided dice are then used by each player in an attempt to match or come the closest to that target figure by combining the numbers on them in any way using mental maths only. It also comes in a handy travel bag so can be taken anywhere for a quick game on the go!
Phonics, spelling and reading made fun be fun for all ages with these great Literacy games
Space Mission Nonsense Words (Ages 4+)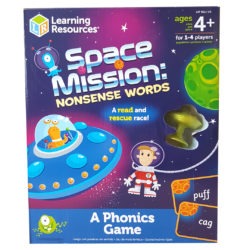 A cute way to practise phonics and sounding out words because not all the words are real so sounding out the letters is necessary in order to be able to read the word fully and correctly with an understanding of the phonics rules in general. Helps to prepare for the 'National Curriculum Year 1 Phonics Screening Check'. With astronauts and aliens to be won children will be suitably and sufficiently engaged.
Pop For Sight Words (Ages 5+)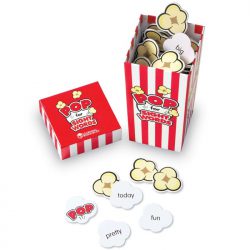 Pop For Sight Words is an engaging game designed for 2-4 players. Pull out popcorn pieces and read the high-frequency words out loud. IF you say it you can keep it! Collect the most pieces but watch out for the pop tokens, or all your popcorn will go back in the box!
Apples to Apples (Ages 12+)
For the more advanced English students a game to play around with the English language so an ideal combination of fun and academics in one box. Any number of people can play this game so can be played with the family or even a large group of friends. The designated judge will play a 'Green Apple' card, this will have 2 words to choose from, the judge subsequently chooses which word will be used for this round. Everyone else plays a 'Red Apple' card to create a random or crazy combination when put together with the 'Green Apple' word. The judge then picks the best, funniest or most clever combination as the winner. An amazing game for older children to exercise their vocabulary and will provide hours of hilarious entertainment.
Which products or methods you choose to use will depend on your little ones, but a warm-up before school starts can help to avoid the shock of actual studying and helps children settle in quicker. For lots more educational toys and games take a look at our Literacy and Maths games sections in full. And if you're lucky enough to be near one of our stores, then so drop on by and have a game with us!